Business visa in the UAE
Investments are a big part of the economic interest of any country, so the UAE government began to actively develop mechanisms to attract foreign capital to their country. The UAE is an attractive jurisdiction not only in the Middle East but also in the world. For the purpose of creating an attractive economic environment for businesses in the UAE, a system for obtaining long-term visas was implemented in 2019 – the Golden Visa system. This system allows foreign citizens to live, work and do business in the UAE without the need of a national sponsor as it was before. People who obtained such a visa can set up their own business with 100 percent of ownership. Depending on the category of an applicant, the visa is issued for 5 or 10 years and can be renewed for subsequent terms.
What is a business visa in the UAE
According to Cabinet Resolution No. 56 of 2018 Regarding the Organization of Residence Permits for Investors, Entrepreneurs and Professional Talent (hereinafter: – Resolution") following categories of applicants can obtain the Golden Visa:
investors;
entrepreneurs;
specialised talents and researchers in various fields of science and knowledge;
bright students with promising scientific capabilities.
A business visa is part of the Golden Visa system under which foreigner expatriates can obtain a long-term residence permit for themselves and their families wishing to come to work, live and study in the country, the possibility of enjoying long-term residency without the need for an Emirati sponsor, establish a company with a 100% ownership within the state of emirates, in contrast to a traditional company incorporation, which requires the presence of a local partner with a share not less than 51% of business ownership and investment projects within the emirates of the country.
Eligibility criteria for the Golden Visa
To be granted a residence permit, an investor must meet eligibility criterias , let's concentrate on categories of investors and entrepreneurs. To date, UAE grants two types of golden visas – 10-year visa and 5-year. Professionals from any country with entrepreneurial experience are eligible to apply for the business visa. An eligible entrepreneur is anyone who has set up a business of his own at some point in his career and wishes to do so again in the UAE. The table below discusses conditions that applicants must meet to be eligible for both of them.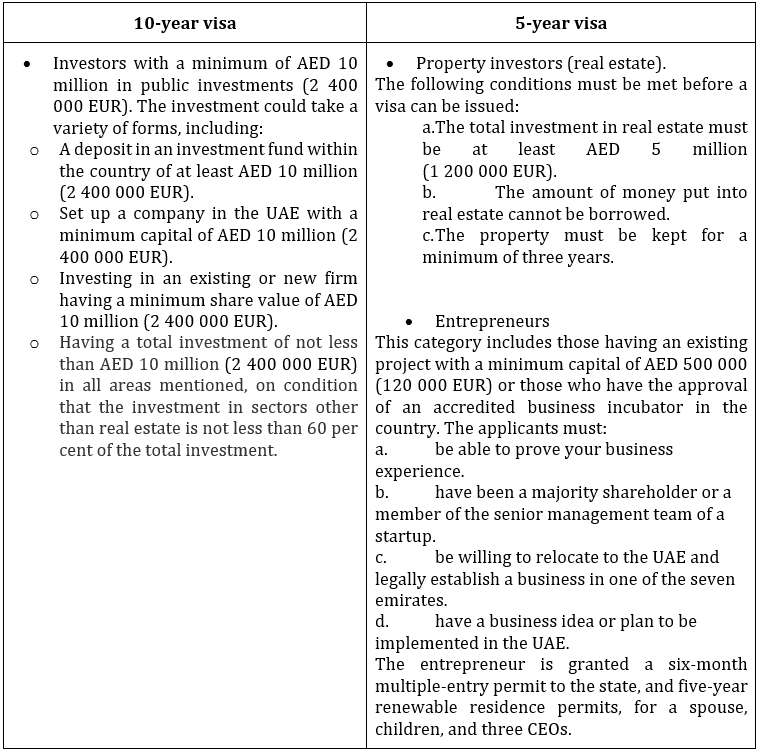 Moreover, following financial requirements (as indicated in the article 4 of the Resolution) must be met by the applicants:
The amount of investment capital must not be loaned and fully owned by the applicant.
The investment should be retained for at least three years.
The investor's financial liability is not encumbered by civil claims or judgments that detract from his financial solvency, which is not less than AED 10 million (EUR 2401274). (applicable only for 10-year visa).
How to apply for and receive a business visa
In addition to the above requirements, the applicant must pass the Federal Authority for Identity, Citizenship, Customs, and Ports Security's requirements, which include a background check and a health examination. In addition, potential entrepreneurs in the UAE must have their nominations approved by a government-supported incubator (currently, AREA2071 in Dubai and HUB71 in Abu Dhabi). Once the nomination has been approved, applicants will be requested to apply for the visa through the e-platform by the Federal Authority for Identity, Citizenship, Customs & Ports Security
The application is registered and official documents are submitted through the platform, which enables officials to identify the projects in detail before granting the permanent golden residence. The electronic system enables all relevant government agencies to review applications and attachments to ensure that they complete the required.
If the nomination is approved, applicants will be sent a link to upload the necessary papers and complete their visa application.
If the nomination is denied, there is a possibility to reapply after 90 days.
If applicants live outside of the UAE, they will be granted a six-month visa to visit, explore, and settle in the UAE, and there is an obligation to change a temporary visa status into a business visa before it expires.
Why do you need a business visa in the UAE
Reading this article, you must have asked yourself — do I need to obtain a visa with such high requirements to meet or should I choose another jurisdiction? Before making a choice, you should understand that the UAE is a high potential country to do business and make money. Being a sole business owner in the UAE, especially in the UAE`s free zones, will provide security about a future in the country. To sum up, establishing a company in the UAE can give you a lot of opportunities for your business and can make sure that your investments are under reliable protection.
The content of this article is intended to provide a general guide to the subject matter, not to be considered as a legal consultation.
---
Author: Nikita Costin, lawyer at Manimama Legal&Growth Agency